Day 6 – Friday 2 June: Klaserie Private Nature Reserve
Yet another stunning day in Africa!!  Awoke to clear blue skies – perfect weather!
Off on our morning safari …   Sightings included giraffe, a lone bull elephant, and a group of three white rhino!  All the while, Shaun is keenly tracking lion and leopard so is stopping the vehicle from time to time and getting out to inspect the animal tracks.  And it's walking day … YAY!!  So after a safety briefing from Shaun, we headed off, in single file between Shaun and Wiseman, for our bush walk!  It was great to actually be able to walk out in the bush and feel a part of it.  On our walk we sighted warthogs, Sharpe's Grysbok, and impala.
Then it was back to camp for lunch.  Lindsay's lunch today was frittata, macaroni and cheese, and a favourite with the group … salad and homemade dressing.  Then it was two hours of free time at our lovely lodging where it was wonderful to just relax and immerse ourselves in our surroundings.  Even during the rest period, we managed to see, from the luxury of our lodgings, elephant, giraffe and two waterbuck!  I must say this incredible place made me feel like Karen Blixen in 'Out of Africa'! This quote from her famous tome sums it up – "The views were immensely wide. Everything that you saw made for greatness and freedom, and unequalled nobility."
Then at 3:00pm we were off on our afternoon safari where we came across a hippo skull and sundry other animal bones.  Di was in her element, wishing she could take them home!!
About 5:00pm we stopped and set up for sundowners at (what I coined) "Pride Rock".  It was stunning watching an African sunset from our elevated viewpoint.  What could be better than being out in the African bush watching the sun paint the sky iridescent red and orange, all the while having a glass of red in hand!  I don't believe it gets much better than that!!
We continued on in safari mode, with the sun now set.  So it was time for our first night safari which involved Wiseman using the spotlight and his incredible tracking skills to spot wildlife under the cover of darkness.  No mean feat!!  Not long into our night safari we were rewarded with an incredible sighting, a gigantic white rhino!  It was so big that a number of us thought it was an elephant at first glance!  Shaun was even pretty stunned.  Continuing on we saw warthogs, bushbabies, civets, and a large female hyena.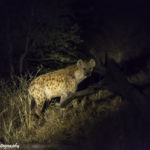 All the while we were still on the hunt for the elusive big cats which the tracks seemed to suggest were off in another area that Shaun hadn't navigated before.  So, Shaun and Wiseman swapped places as Wiseman knew that area and track.  Shaun then sat in the tracker seat up-front, and Wiseman took over driving duties.
No lions tonight, we'll be back on the case tomorrow!  We made our way back to camp where the camp fire was roaring, and Lindsay had readied everything for our South African braai (BBQ).  Our feast included Cajun chicken, Lindsay's yummy homemade sausages (made from fillet steak), pork ribs, corn, and a lovely beetroot and feta salad.  Shaun cooked the braai, which we all savoured.
Another fabulous day done and dusted!